Looking to buy a vlogging camera? Well, luckily you've found the ultimate guide for finding the best vlogging camera. Wether you're already a vlogger but looking to upgrade to a better vlogging camera or you're just about to start a vlog and want to buy a good vlogging camera to start with.
In this guide we will explain what makes a camera good for vlogging and highlight some of the best vlogging cameras in different price ranges so you can find the right vlogging camera for your budget. Our guide features the best vlogging cameras of 2017 and will be continually updated. So without further delay, let's jump right into it.

Last updated: August 2017
What Makes a Good Vlogging Camera?
Image Quality: The most important aspect of a vlogging camera is image quality. We recommend you look for a camera that records in at least 1080p or 'Full HD'.  Anything below that is below the average quality of youtube vlogs and can hinder the growth of your channel. We have listed two 720p vlogging cameras in this guide for people on a tight budget. If you are on a bigger budget and want the best vlogging camera. Go ahead and pick a camera that shoots in 4K or 'Ultra HD'. Keep in mind that if you buy a camera that shoots 4K you will also need a good laptop to edit and render the footage on.
Weight: Cameras don't weigh a lot but can get surprisingly heavy when you hold one with an extended arm for more than a few minutes. The vlogging cameras recommended in our guide are relatively light so you can carry them around all day and you will not get sore while vlogging. For vlogs where the camera can be set on a tripod or does not need to be carried around we have also picked some good vlogging cameras for your needs.
Optical Image Stabilization: It is very common to vlog while walking or doing other activities that involve a lot of movement. Although Youtube and video editing software can help stabilize footage a lot, it will not come close to the quality of a vlogging camera with built-in Optical Image Stabilization. This feature helps prevent shaky video footage and improve the quality of your vlogs.
Audio: Your viewers will not stick around for your entire vlog if they cannot hear a word you're saying. That's why it's important to pay attention to the microphone of a camera before making the purchase. Every camera has a built-in microphone with decent quality but may pick up unwanted background noise. Some cameras have a microphone jack so you can use an external microphone for better sound in your vlogs.
Camera Lens: Given that most of your footage is recorded from an arm's length away it is important to look for a vlogging camera with a lens that offers good video quality while shooting from close range. Nothing is more annoying then being out of focus for the most part of your vlog.
YOUR NEEDS: Of course the best vlogging camera is the camera that is best suited for YOUR needs. If you record in low-light conditions you will need to look for vlogging cameras that handle that well. If you vlog while on the move and capturing adventures an action cam is better suited for you. Maybe you need to have perfect audio so you need a vlogging camera with connectivity for external microphones. Think about the type of vlogs you want to make and select the vlogging camera that best fits your needs.
Cheap Vlogging Cameras (720p)
Want to try out vlogging but don't want to sink a lot of money into it yet? We understand, but keep in mind in this price range you will have to make due with 720p HD because the 1080p Full HD vlogging cameras are (a bit) more expensive. If 720p is good enough for you we recommend:
Sony W800/B
The Sony W800/B is the perfect vlogging camera for the person that wants a cheap camera to test the waters and explore the wonderful world of vlogging. The Sony W800/B is a lightweight vlog camera that shoots in 720p and comes with SteadyShot Image Stabilization.
The camera is easy to charge with USB charging and one of the best-selling cameras in its price range on Amazon. And for good reason. However, due to the video quality being only 720p we highly recommend spending a bit more and purchasing one of the vlogging cameras featured below.
More information View on Amazon
Sony DSCW830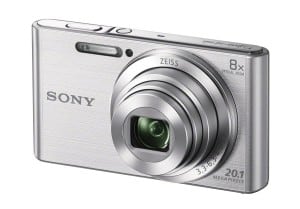 The Sony DSCW830 is a 20.1 Megapixel camera with 8x Zoom and shoots 720p HD footage in MP4 format for easy editing. The optical SteadyShot stabilization with 2-way active mode gives you the freedom to vlog while walking or even running.
The intelligent auto mode automatically adjusts to the lighting conditions and the face detection technology helps with the focus, exposure and white balance so you can just start vlogging and while the camera does al the hard work for you.
More information View on Amazon
Cheap Vlogging Cameras (1080p)
If you do not want to spent too much money but still want to record in Full HD 1080p. This category will provide you with our vlogging camera recommendations that offer the most bang for your buck.
Sony DSCWX220/B
The Sony DSCWX220/B is the first Full HD (1080p) affordable vlogging camera in our buyers guide. This camera has a 18.2 megapixel sensor which performs very well in low light conditions and uses the BIONZ X engine for superb detail and noise reduction.
Not only is this camera able to record in 1080p but can also do so in 60 frames per second for even smoother footage. The camera has 10x optical zoom and image stabilization to stabilize shaky footage and prevent motion blur. Even when you are walking while the camera is zoomed in.
More information View on Amazon
Nikon CoolPix S33
The Nikon CoolPix S33 is one of the cheapest full HD vlogging cameras currently available. This camera features a 13.2 megapixels camera sensor and is capable of recording Full HD 1080 vlogs with stereo sound. The camera is designed for the active vlogger and can go underwater down to 33 feet deep, withstand drops up to 5 feet and handle cold temperatures.
With the rounded corners and oversized buttons it's also very easy to use for all ages.
More information View on Amazon
Beginner Vlogging Cameras
Want to produce high quality vlogs on a budget? This category features the best value vlogging cameras.
Panasonic DMC-ZS45 LUMIX
The Panasonic DMC-ZS45 is one of the cheapest Full HD 1080p flip screen vlogging cameras currently available. This camera has a 16 megapixel sensor resolution and records in 1080p (30 frames per second). This camera also has 20x optical zoom so you can zoom in very far if needed. Apart from this, the camera also has a host of different features for vlogging. Optical image stabilization will correct a lot of shakiness in your recorded footage. The wide-angle lens makes it look like you're further from the camera when you are recording at an arm's length instead of being too close to your face and of course another very useful feature is the flip screen. The flip screen can be flipped to face the front of the camera so you can see yourself when you are vlogging and see if you're fully in frame.
This might be the best camera for vlogging beginners because of its flip screen and excellent quality at an affordable price-point.
More information View on Amazon
Canon PowerShot SX710 HS
The second vlogging camera in our beginners category is the Canon PowerShot SX710 HS. The PowerShot SX710 HS features a 20.3 megapixel High-Sensitivity CMOS sensor to capture high quality video with improved low-light performance. With the Intelligent IS and Zoom Framing Assist this camera is prepared to handle a variety of situations by analyzing camera movement and applying the best shake correction method for the current shooting situation.
The amazing 30x optical zoom gets you just where you want to be: down on the field, high atop a skyscraper, deep into a landscape and much more. All of these features allow you to capture breathtaking Full HD 1080p video in 60, 30 and 24 frames per second packed into a slim design that is perfect for vlogging.
More information View on Amazon
Intermediate Vlogging Cameras
Serious about vlogging and want to produce high quality vlogs to grow your youtube channel faster? Here are the vlogging cameras we recommend for you.
Sony DSC-RX100/B
The Sony DSC-RX100 has a beautiful ultra-slim aluminum body with a 3-inch Xtra Fine LCD display with bright whites and true blacks. This camera captures in Full HD 1080p at 60 frames per second with a lot of manual options so you can tweak the settings to your own preferences. You can then save up to three different groups of custom settings using the memory recall feature.
The RX100 has a bright F1.8 Carl Zeiss Vario-Sonnar T lens (with 3x zoom) and a wide ISO range (125-6400) for excellent performance in low or bad lighting conditions. The 20.9 megapixel 1″-type Exmor CMOS sensor and Steady-Shot Image Stabilization create high quality video for your youtube channel.
More information View on Amazon
Canon PowerShot S120
The Canon Powershot S120 captures beautiful 1080p full HD video in stereo sound with a dedicated movie button. Thanks to the 12.1 megapixel high-sensitivity 1/1.7-inch CMOS sensor combined with the Canon DIGIC 6 image processor the camera offers very good low-light performance.
The 24mm wide-angle view lens with 5x optical zoom and large f/1.8 aperture create beautiful portrait footage with soft background blur and captures landscapes, tall buildings or wide groups of people in the background with ease.
More information View on Amazon
Professional Vlogging Cameras
This category features cameras that are used by a lot of popular vloggers. These vlogging cameras produce high quality video with great sound in all situations.
Canon PowerShot G7 X
The Canon PowerShot G7 X is an incredibly popular vlogging camera among YouTubers. This compact and lightweight camera with flip screen shoots very high-resolution video in Full HD 1080p at up to 60 frames per second. Combine this with Canon's innovative Intelligent IS which automatically corrects any shaky footage to get beautiful, stable and clear footage in any situation.
The G7 X has a 3-inch flip screen with touch screen capabilities to adjust camera settings or adjust focus by touch. The screen display is crisp and clear and features 1.04 million pixels. The flip screen is almost glare-free and works great, even in direct sunlight.
The Canon PowerShot G7 X is used by vloggers like Shaycarl, CutiePieMarzia, FunForLouis, RomanAtwood, Joey Graceffa and iJustine.
The successor of the G7 X, the G7 X Mark II, has already been released. However, the difference is very small and isn't worth the extra money for everyone. The Mark II has slightly better battery life and low light performance. If that's important to you, go for the Canon PowerShot G7 X Mark II.
More information View on Amazon
Canon EOS Rebel T5i
The Canon EOS Rebel T5i is the very first DSLR in our guide and is a bit heavier than the vlogging cameras we have discussed so far. The image quality is very good and natural-looking and you can adjust the exposure and audio controls manually. The autofocus is very fast and impressively accurate (even in low light conditions).
Also the built-in stereo microphone makes for crystal clear audio in your vlogs. If you want to upgrade in the future. This camera has an interchangeable lens and an external microphone input so it has lots of potential for future upgrades. You can just upgrade your lens or microphone as your vlogs get more popular.
More information View on Amazon
4K or Ultra HD Vlogging Cameras
As the technology gets cheaper there will be a rise in in 4K vlogs. Since most vloggers still record in 1080p you will have a advantage and be ahead of the curve if you record in 4K.
4K video files are bigger and more demanding so make sure your memory card and computer can handle it as well.
Sony 4K HD FDRAX33 Handycam
A good option for producing insane quality 4K 'ULTRA HD' vlogs is this Sony 4K handycam. This handycam has a ZEISS® lens with Balanced Optical SteadyShot(TM) image stabilization for perfect video footage. The camera has a 5.1ch surround sound microphone and advanced audio features such as Auto Wind Noise Reduction and Premium Closer Voice to attain ideal sound quality in various situations. The camera is also able to broadcast LIVE using Ustream so you can interact with your audience in real-time.
More information View on Amazon
Sony DSC-RX100M IV
The holy grail of portable vlogging cameras. The Sony DSC-RX100M IV shoots in crystal clear 4K resolution and can shoot up to 960 fps for very cool slow motion shots. This is the perfect vlogging camera for anyone who wants to create professional vlogs and maybe include some cool cinematography shots in their videos as well. This camera has the best low light performance of any of the vlog cameras featured in this guide so any night-time footage you record will be very sharp.
The camera also has a high-resolution flip screen with excellent viewfinder so you always know how (good) your footage looks while recording. The autofocus is VERY fast with almost no lag at all so you will never have to wait for the camera to focus while vlogging.
More information View on Amazon
The Ultimate Vlogging Cameras
These ultimate vlogging cameras are the best cameras you can possible buy and use as a consumer. These vlogging cameras are a bit bulkier and heavier but provide better quality and more options for sound and image settings.
Canon VIXIA HF G40
The flagship of Canon's VIXIA Series. The VIXIA HF G40 is the next generation of the popular G40 and offers many professional-quality features. The camera records in full HD 1920 x 1080p at 60 frames per second and is able to zoom up to 20x with the high-definition optical zoom lens. Using the Advanced HD CMOS Pro Image Sensor it now also offers improved low-light performance.
You can choose to record in MP4 (35 Mbps) or AVCHD (28 Mbps) and because it has two memory card slots you will never run out of storage capacity. Image is stabilized by Intelligent Optical Image Stabilization for incredibly stable video footage. The built-in Wi-Fi allows you to wirelessly share your images and video or send to a PC. Another highlight of this camera is the 3.5-inch OLED Viewscreen with 10,000:1 contrast ratio and EVF for super accurate video previews.
More information View on Amazon
Canon EOS 70D with lens
The Canon EOS 70D is the best vlogging camera for people who are serious about their Youtube career and want to produce professional looking videos.
The Canon 70D features a 20.2 megapixel APS-C CMOS sensor and records in Full HD 1080p. What really sets this camera apart from other cameras and the reason it's so popular among YouTubers is the autofocus system. The autofocus of this camera is unparalleled and produces amazing looking videos. It's incredibly fast and allows you to blur the background while the intended subject stays in focus. Even if you are moving around.
The 70D also has a 3-inch flip screen with touch screen capabilities so you can adjust camera settings, browse menus or adjust the focus simply by touching the screen.
If you are willing to invest in good equipment, you have found the perfect vlogging camera for your youtube channel. You can always add an external microphone or use a different lens in the future so you can upgrade without having to buy a brand new camera.
The successor of this camera, the Canon 80D, has already been released. But, in our opinion, the difference is not big enough to justify spending the extra money. That's why a lot of YouTubers still use their Canon 70D.
More information View on Amazon
Best Action Cameras for Vlogging
If you vlog a lot while traveling, jumping in pools, swimming in the ocean, doing extreme sports and want to put your viewers in first person point of view. An action camera will be best suited for you. Action cameras are durable and waterproof which means you can use them in more demanding situations.
Due to the waterproof design of these cameras the sound of your video recordings will sound more 'distant' than a regular camera. You can always use one of our recommended vlogging microphones for better audio quality.
GoPro HERO4
The GoPro HERO4 is extremely durable and waterproof up to 131′ (40m). The GoPro comes with built-in touch display, photo capture and the GoPro App + software. The camera records in 1080p at 60 frames per second or 720p at 120 frames per second. The camera has a host of different settings for low-light conditions, time lapses, performance audio, field of view settings and tagging so you can mark key moments while recording.
GoPro have already released the newer GoPro Hero5, so should you buy the HERO4 if it there is a newer version available? Not necessarily. If you really want to shoot in 4K Ultra HD then yes, if you are happy with Full HD 1080p then this camera will work great.
More information View on Amazon
GoPro HERO5 Black
GoPro recently released the GoPro HERO5 Black. The hero5 is the most powerful GoPro released to date and is capable of recording 4K Ultra HD video at up to 30 frames per second. You can also record slow motion video in Full HD at up to 120 frames per second. Video is automatically stabilized using advanced video stabilization and the sound quality is good too.
The rugged and durable design of the Hero5 means the camera is waterproof to 33 feet without a case and it's also very easy to use. You can control the camera with simple voice commands or using the single physical button to power the camera on and start recording. The camera features two screens. One small screen on the front to show important information like battery life and recording information like duration and resolution. Located on the back of the camera is a 2-inch touch display to view footage, change settings or trim footage.
More information View on Amazon
Conclusion
And that concludes our guide to finding the perfect vlogging camera for your budget and needs. We hope you have found the perfect vlogging camera for you! We HIGHLY recommend you also add an SD card to your shopping card (since most cameras ship without one) when making the purchase and maybe even an extra battery depending on which vlogging camera you pick and if you have access to a charger during the day.
We hope you enjoyed our guide! If there are any vlogging cameras you feel we missed in our guide please share it with us and if you think this guide will be helpful to others please share it with them.
Found the perfect vlogging camera and now looking for other equipment to help you produce high quality vlogs? Check out some of our other buying guides!
If you want to know what camera popular YouTubers use to record their vlogs you can also check out: What Camera do Famous YouTubers Use?